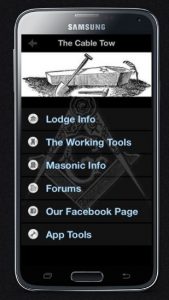 The Cable Tow is an app for Masons. It contains map information for lodges, meeting dates, masonic education, and much more. It is an all in one app for any mason.
Currently the App only has complete Lodge information in the Grand Lodge of Alberta, but more will be added upon demand, or as time permits. Regular updates will be posted.
Feautures:
– Discussion Forums
– Lodge Directory
– Lodges in The area
– Custom User Lodge List
– Masonic Education:
— Podcasts
— eBooks
— Video Channels
– Digital Organist (Canadian Rite standard music as set out by the Grand Lodge of Alberta)
– Masonic FAQs
Get it Now!